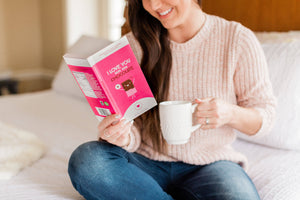 I Love You More Than Chocolate Card w Chocolate Bar Inside!
Featured in The New York Times, Good Housekeeping, and more, Sweeter Cards are a greeting card and chocolate bar *all in one*!
Each card, which can be handwritten in like all greeting cards, has a delicious gourmet chocolate bar inside as well. A two-for-one gift! The flavor is sea salt caramel dark chocolate and it's insanely delicious. Each batch of chocolate is hand stirred in copper kettles and made with love to ensure every single Sweeter Card is full of deliciousness that will win the card-giving game.
This "I love you more than chocolate card" is the perfect Valentine's Day gift (but it can also be used year round as it doesn't say Val inside!). Shelf life is around 12 months!